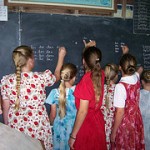 Aum 28. Septamba 2013 send aula Plautdietsch-Frind en uck aule aundre no Detmold to dee ditjoasche Plautdietsch-Doaginj ennjelodt! Daut woat soo aus enne latste Joare oppem Plautz vonne AHF-Privautschool senne, aulsoo bie onsem Kentooa enne Georgstraße 24.
Von Klock 14 Nomeddach trafe sich dee Mettjlieda von Plautdietsch-Freunde e.V. to dee ditjoasche Mettjliedavesaumlinj. Wea (noch) nich Mettjlied es, kaun uck jern doabie senne en es uck enjelodt, Mettjlied to woare.
Klock 16 fangt dee Deel mette Vorträge aun. Ditmol es daut Teema "Tus bie Plautdietsche". Doatoo vetalt Heinrich Heidebrecht (Stuttgart) waut ewa plautdietsche Hiesa enne Ukraine, Katharina Neufeld (Detmold) sajcht ons, waut bie plautdietsche Mensche oppem Desch tjemmt, Heinrich Siemens (Bonn) lat ons Entressauntet en Nieet ewa onse Sproak weete.
Meea Informatioone soo aus emma em Detmolda Plautdietsch-Kentooa – ewa Foon ooda Mail. Uck bie Facebook tjen Jie saje, auf Jie kome. Bett dan!
June Plautdietsch-Frind
Foto: Bowe oppem Bilt send plautdietsche Schiela enne School to seene – 2009 en Belies (Belize, unja Mexiko). Uck ditjoa we wada eene Grupp vonne Plautdietsch-Frind en disem wundaboaren Launt. Oppe Doaginj woat et Jeleajenheit jewe, meea doarewa to here en to seene.