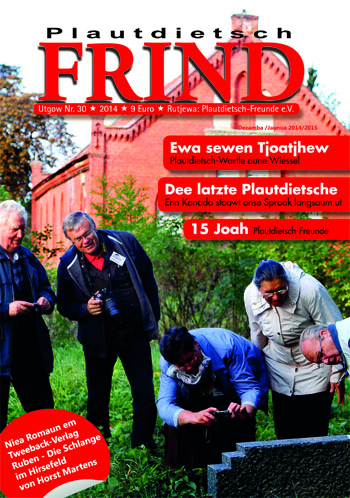 Dee Plautdietsch Frind Numma 30 es bute. Dee Vereens-Mettjlieda tjrieje dee toojeschetjt. Aule aundre tjeene dee bestalle. Waut jefft daut interessauntet to leese? Seeha vel.
Wea eene "Frind" hawe well, malt sich bie Plautdietsch Frind, c/o Anne Wiens, Plautdietsch-Freunde e.V., Georgstraße 24, 32756 Detmold, Tel:
+49 (5231) 921662, info@plautdietsch-freunde.de. Een Exemplar kost 9 Euro.
Ewa sewen Tjoatjhew saust du gohne – een Berecht ewa onse Foaht noh Daunzich en noh Preissen, doa woo onse Veafoare lewde.  Autor: Horst Martens. Vel Bilda jefft daut to betjitje, una aundrem unja Über sieben Friedhöfe musst du gehen.
Broot en Solt deele pausst seeha goot tom eschten Artitjel. Dee Mennonitischa Arbeitskreis Polen (MAP) pflejcht dee Kontakte to dee vondoagsche Bewohna vom Daunzija en Marienburger Werder. Eene Bestaudsoppnohm. Johann-Peter Wiebe
Sonnebloome aus enn Russlaunt – Poppkasch aus enn Südamerika
Plautdietsch FRIND besetje Jubiläum vonne boliviaunische Kolonie. Autor: Andreas Harms
Dee Karate-Meista ut Belize
Tjnistrich aus een Loagafiea
Horst Martens lajcht sienen eschten Roman vea. Daut Bok "Die Schlange im Hirsefeld" tjemmt emm Tweeback-Verlag rut. Autor: Uwe Friesen
Niee Betja
– Wie schön ist deine Stimme von Hannes Kalisch
– Hermann Jantzen: Durchs wilde Turkestan.
Jrata, bosja, beta en meeha – 40 Joah Veehzichtaverein Rodeo Trebol em Chaco. Autor: Uwe Friesen.
Eumenet: Europas Mennonite hawe eene Homepage – Dee Internet-Opptrett word enn Detmold friejeschault.
Lostjet en Eernstet ewa Jefeele – Plautdietsche Tjinstla spelde fere Hollenda. Autorin: Tatjana Klassner
Etj haud mol eenen Friea, joh, joh, joh – Aules ewa dee Leew unja Plautdietsche. Autorin: Tatjana Klassner
Jedicht: Noch een Fria. Autorin: Maria Ens
Tjinjasied: Wiehnachtsmaun, Wiehnachtsmaun / Wiehnachtsjedichta fe Tjinja en Ellere. Autorin: Tatjana Klassner
Dee latzte Plautdietsche enn Kanada – Opp eare Reise besochte Heinrich Siemens en siene Dochta Hannah bekaunde Schreftstallasch en aundre Bekaunde. Autor: Heinrich Siemens
Dee Huttera enn Kanada – Jeff, waut du kaunst, en du tjrichst, waut du bruckst. Autorin: Hanna Katerina Siemens
Auna eare Koaksied – Tjieltje haundjemoakt. Autorin: Anne Wiens
Gratulation: Plautdietsch Freunde woad 15 !!!
Woo dee Verein en dee Tiedschreft entstunne. Autor: Horst Martens
Aundacht: Waut besett wie?
Mennischa Predichtpries fe Pastorin Rossol
Onse Welt
Kultuapries fe "ons" Museum / Andreas Wall basta Nohwauss-Sodla / Reis noh Daunzich en Tjeenichsboajch / Toop meeja erretje – Medienkonferenz / Mennonitin leit ökumenischet Forum / Fe aundre oppe Pedalle klunje / Anti-Menno.