Rudy Friesen ess een mennischa Ar­chi­tekt enn Ka­na­da, dee vele Joahre lang noh dee Ukraine foh, omm dee mennische Buwoatje doa to studiere en to do­ku­men­tiere. Doarewa schreef hee een Bok: Building on the Past, daut nu biem Tweeback-Verlag opp Dietsch rut tjemmt.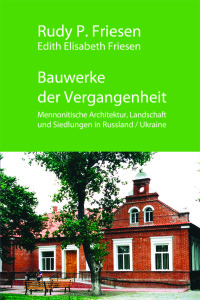 Vele Mensche, dee noch enne Ukrai­ne jebore sent oda dee Ellre oda Vea­foah­re habe, dee enne Ukraine jebore sent, en daut sent aule Plaut­dietsche, intressiere sich fe eahre Ve­goh­nenheit, fe dee Oat, woo dee Menniste sich to dee Tiet doa eah Lewe ennjerecht haude.
Enn dissem Bok finj wie eene Jeschicht von onse Men­sche, dee em 16. Joahhundat ut Flandern en ut Frielaunt noh Wastpreisse trocke, dee doa aunfonge Plautdietsch to rede, em 18. Joahhundat dann noh Nierusslaunt wie­datrocke, noh dee Jeajent, dee Katahrina II. een poa Joah­re tridj dem Osmanischen Ritj aufjenohme haud. Mett dis­sem Bok leh wie velet von jane Jeschicht.
Europäische Bustile
Rudy Friesen deelt dee Ar­chi­tek­tur­jeschicht enn eenzelne Auf­schnet­te enn. Aum Aunfank bude dee Menniste eahre Hiesa, Tjoatje, Schoo­le en soo wieda kratjt soo, auss see daut ut Wastpreissen tjannde. Oba mette Tiet fonge see aun, sich aun europeische Bustile to orientiere, soo finj wie aum Enj vom 19. Joahhundat uck bie dee Menniste Gründerzeit en Jugendstil. Dee Tjoatje fange aun, dolla noh Kathedralen auss noh preissische Bethiesa to litjne. Dee eschte Industrielle bue groote Fa­britje en vesorje nich blooss plaut­diet­sche Buasch, oba uck dee rusche Launt­wirtschauft mett Maschine tom Beoabeide vom Launt. Dee esch­te Krankehiesa, Aunstaulte fe Behindade, Parks en soo wieda entstohne. Daumpmehle klunje aune Sted von Wintmehle. Kröger but Klocke, dee bitt vondoag enn plautdietsche Hiesa henje en emma noch toovelotich dee Tiet wiese.
Nu ess daut aul ewa 70 Joah hea, daut dee latzte Menniste ut dee Ukrai­ne utwaundade oda flichte muss­te, oba velet ut dee Tiet verhea ess erhoole en daut kaun eena von­doag noch auntjitje foahre.
Wea docht, plautdietsche Ar­chi­tek­tur ess emma blooss prost en funk­tional, en wann nich daut, dann kitschich en jeschmackloos, dee kaun ut dissem Bok lehre, daut mennische Architekte uck groote Buwoatje bue kunne en deede.
Gooda Reisefiehra
En wea eene Reis noh dee Ukraine plont, dee kaun sich mett Plons von­ne Darpa en vele Dusent Photos enn dee Tiet tridj vesatte, enn dee doa onse Veafoahre wohnde, en ditt Bok auss Reisefiehra brucke.
Rudy P. Friesen, Bau­werke der Ver­gan­gen­heit. Ewasat von Hein­rich Heidebrecht. Tweeback Verlag. 24.95 Euro. Daut Bok kaun bie www.tweeback.com oda bie www.plautdietsch-freunde.de bestallt woare.
Tatjst: Heinrich Siemens