Edmaun Hoada es eena von seeha weinje plautdietsche Theauta-Schriewasch, dee ewa dee vondoagsche Tied schriewe. Plautdietsch FRIND berechte enne aktuelle Utgow ewa ahm. Nu es Edmaun Hoada, dee den Nohme Waldy Hoffmann aus Tjinstlanohme haud, jestorwe. Sien Tood we eene Folj von eenem Hoataunfaul, Bekaunde haude ahm opp siene Estancia, woo hee auleen lewd, besennungsloos oppjefunge.
Hia es dee Berecht von Uwe Friesen, den wie aufjedruckt hawe, auls Edmaun Hoada noch unja ons we.
Theautaoppfehrinje sent enne Mennonitekoloniee enn Paraguay aul ewa Joahtiehnde jemoakt worde. Doabie haft sich daut beweaht en uck bewoahrheit, daut maun aum leewsten leichtre Kost mucht: Stetja, dee voll von Humor steatje, dee sich opp dee ejne Jesalschauft betratje en doamet uck met dem ejnen Lewe en Vebinjinj jebrocht woare tjene.
Edmaun Hoada – Tjenstlanome: Waldy Hoffmann – ess eena von dee weinje mennonitische Theautatjinstla, dee sich nich blooss met dee Veastalinj von Theauta, oba uck met dee Kreatioon von niee Oppfehrinje befot haft. Met ahm hab etj doaweajen ditt Jespreatj jefeht.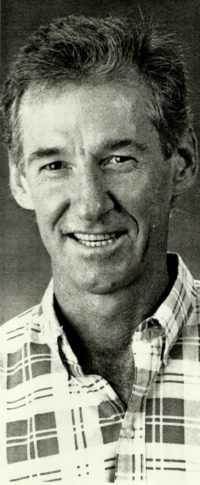 FRIND: Edmaun, stal die bitte eenmol kort vea …
Edmaun Hoada: Etj sie Edmaun Hoada en wohn enne Kolonie Menno em paraguayischen Chaco. Etj sie enn eene Grootfamilje oppjewosse, aus fefftet Tjint von 14, aune 1950 jebore. Wie were neajen Breeda, twee doavon ella aus etj. Eena veonjletjt aune 1989 en stetjd aun Jeftgase, aus hee siene Metoabeida ut eenem Tank rade wull. Etj hab fief Sestre; eene storf Enj Jaunuoa 2019 aune Folje von eenem Hirnschlach. Wie sent aulsoo vondoag emma noch eene Dutz.
Wiels too dee Tiet, aus etj aunfonk Theauta too schriewe, onsjefeah eene Dutz Edmaun Hoadasch en Menno wohnde, socht etj noh eenem aundren Nome, dee beta rutkaum. Soo kaum etj opp "Waldy Hoffmann". Hoffmann, met dee Hopninj, waut Positivet to erretje. Uck wan etj niemols em Senn haud, groot to schriewe, gauf etj mie den Nome. Waldy – dee hopninjsvolla Maun.
FRIND: Woo kaumst du doatoo, enne Theautawelt enntostieje?
Hoada: Etj sach daut eschte Theautastetj enn mienem Lewe, aus etj 14 Joah oolt we, en etj we gaunz bejeistat doavon. Von donn aun dreemd etj, irjentwan mol selfst Theauta to spele. Dee Jeleajenheit haud etj dan, aus etj 23 Joah oolt we. Etj ewanauhm eene korte Roll enn eene Oppfehrinj. Von donn aun word mie foaken jefroacht, mie to bedeelje – en etj hab niemols aufjesajcht.
FRIND: Waut haft die beweajt, Theautastetja to schriewe? Waut reizt die doaraun?
Hoada: Aune 1976 fonk etj aun met dem Jedanke to spele, selfst Stetja to schriewe, wiels mie daut interessiead. Etj red met miene Frind doarewa, ohne daut dee doaropp vel sede. Daut we den woll eendoont, see were blooss stell. Etj red emma wada doavon, bit een Lehrastudent den Moot haud mie too saje, daut soowaut Kopp en Foot habe musst, en daut etj met miene knaupe acht Joah Schoolbildung nicht doavon dreeme sull. Hee sed: "Daut ess fe jebilde, kloke Lied, soowaut."
Etj gauf ahm rajcht en schmeet daut ut mienem Kopp. Oba veea Joah lota tjrech etj wada Theauta-Feeba, aus etj enn Filadelfia enn dem Stetj "Die tolle Katrin" eene bediedende Nebenroll jespelt haud en doafea grooten Applaus tjrech. Kort doaropp entschloot etj mie, selfst to schriewe. Daut we aune 1980 – en etj word 30 Joah oolt.
FRIND: Woone Theautastetja hast du jeschrewe? Woomet beschaftijst du die enn dee Oppfehrinje?
Hoada: Mien eschtet Stetj nand etj "Dee Russe en dee Kanadja". Daut leet opphorche, bie dee Mennos – Kanadja – en uck bie dee Fernheima – Russe – em Chaco, en daut word een totala Erfolch. Seeha humorvoll en kritisch jeschrewe, hab etj vele Jletjwensche en vel Kritik jetjreaje. Daut we je uck miene Aufsecht, Mensche eenen Spejel veatohoole, daut see sich selfst seehne kunne. Wie fehde daut too dee Tiet enne Chacokolonie, en Frieslaunt, Volendam, Asunción en Oostparaguay, en uck enn Witmarsum enn Curitiba enn Brasilien opp.
Een wiedret Stetj, daut seeha goot aunkaum, we "Dee Gaussebenjels". Daut Theema wehld etj, wiels dee mennische Ordnungsmana oppe Gausse enne Kolonie foaken lange Rede – Moralpredichte – hilde, wan see eenen auntroffe, dee dee Reajle nich ennhild, aunstaut eahre Oabeit too doone en eenen Strofzadel uttoschriewe.
Toodem hab etj atelje korte – haulfstundje – Stetja jeschrewe, dee sich met eenem bestemmden Theema ut de Jesalschauft befote, soo aus "Onse Deenstmejal", "Een Dietschlenda" ooda "Onkel Rampel".
FRIND: Woorom wehlsd du disse Theeme ut?
Hoada: Woorom etj disse Theeme wehld? Wiels dee aktuell sent en sich een jiedra waut doavon aufschniede en metnehme kaun, wan hee well.
FRIND: Fe wem sent dee Stetja jeschrewe? Woorom? Waut wellst du bie dee Tootjitjasch bewirtje, waut wellst du vemeddle?
Hoada: Aune 1997 schreef etj opp Aunfroag von Kanada, wooa etj aul mol "Gaussebenjels" en "Junggeselle" oppjefeht haud, dee Komödie "Jeschaftsmaun". Daut fehd wie dan 10-mol opp. Een Joah lota kaume dee Spelasch dan noh Paraguay, en uck hiea hab wie daut Stetj noch dicht bie 10-mol veajedroacht.
Nohdem schreef etj "Schwieama", eene Fotsatinj von "Jeschaftsmaun."
Ditt Stetj hab etj aune 2018 noch eenmol ennje-eewt en daut enn Loma Plata en uck en Asunción veajedroacht.
Aune 2019 well etj "Schwieama" noch eemol veadroage. Wan daut dee needje Unjastettinj jefft, flej wie doamet uck noh Kanada.
Disse Theeme kome ut dee Jesalschauft en sent fe daut auljemeene Publikum jedocht, wea emma sich fe Theauta interessieat.
FRIND: Woo reagieat daut Publikum?
Hoada: Waut besondasch goot auntjemmt sent dee humorvolle Bejeajninje, dee sich doa aufspele. Daut Publikum tjemmt, om to lache. Daut schauft, wiels dee Biespells ute Jesalschauft kome en dee Tootjitjasch sich doamet identifiziere tjene.
FRIND: Ess Theauta bie dee Mennonite enn Paraguay eene "brootloose Konst"?
Hoada: Wan maun Unjastettinj tjricht, soo aus wie too jana Tiet vonne kanadsche Rejierung, om met dee Theautagrupp noh Paraguay to fleje, kaun maun waut moake. Sest sent dee Koste hecha aus dee Ennnohme. Maun kaun nicht doavon lewe. Oba wie habe met dee eschte Stetja Reise noh Brasilien finanzieat, doa uck jespelt, en uck een poa Doag aum Straunt vebrocht – oba uck met Unjastettinj von veschiedne Lied.
FRIND: Waut blifft fe die – waut fe een Wet haft dee Theautaoabeit?
Hoada: Etj dentj, daut ess fe mie een sennvollet Hobby. Etj hab aul joahrelang blooss dan en wan eene Kortjeschicht jeschrewe, wiels etj miene Ranch oppbud, om doavon lewe to tjene. Ideee toom Schriewe jefft daut noch vele, oba maun well je nich moa aus dee latzte Raut lewe. Oba schriewe moakt Spos.
Dee latzte Joahre sie etj uck doabie, bunte Ped to zichte, aus Hobby; en nu fang etj aun, bunte Mulasch to zichte. Hop wie mol, daut soowaut klaupt, soo aus maun hopt, daut uck met dem Theauta maunchet klaupt …
Daut Jesprech fiehd Uwe Friesen.