Elina Penner schrifft eahre eschte twee Betja / Utgow 45 vonne Tiedschreft Plautdietsch FRIND, Somma 2022
Wea reajelmotich dee FRIND last, tjant ahr aul: Elina Penner haft dem Arnold-Dyck-Pries jewonne. Lotestens ditt Joah haft see bewese, daut see dem seeha too Rajcht jetjreaje haft. Biem Aufbau Verlag ess dee Romaun Nachtbeare rut jekome en biem Tweeback Verlag daut Tjinjabok met Tjinjafroage (en Auntwode – en seeha vel bunte Bilda).

Wan eene jratre Grupp Mensche enn een aundret Launt tratjt, habe see vel to vetahle. Wan daut plautdietsche Mensche sent, om soo meeha, Resse riete jehieat toom Spaziere kratjt soo aus Tweeback Ete en Prips Drintje.
Soo ess daut met Rudy Wiebe en Miriam Toews, dee ewa daut plautdietsche Lewe enn Kanada schriewe, soo ess daut enne latzte Joahre met Horst Martens en Heinrich Derksen, dee eahre paraguayische Erfoahrinje enn Romaune beschriewe.
Een groota Romaun
En nu hab wie eenen grooten russlaunt-mennischen Romaun vealidje, enn dem dee Erfoahrinje von Mi­gratioon, von Traumata, dee aune neajchste Jeneratioon wiedajejewt woare, en daut plautdietsche Lewe enn Dietschlaunt met vel schwoatem Humoa beschrewe woare. Soo rajcht en ajcht plautdietschet Resse Riete.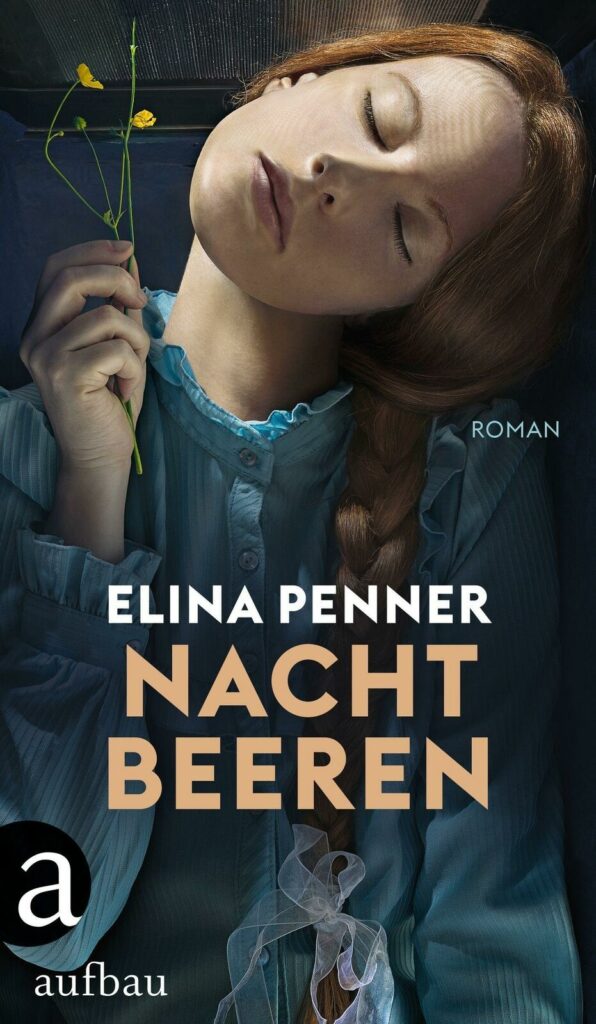 Vele junge Mensche met plautdietschem Hinjagrunt weete nich soo vel doarewa, woorom enn eahre Famieljes eenijet soo aundasch ess aus bie dee hiesje Nohbasch. See stale Froage. En maunchmol weete dee Ellre selfst goa nich soo jenau, waut see auntwode sele. Dan sulle see eahre Tjinja daut niee Bok met Tjinjafroage schentje ooda vealese. Doabie lehre nich blooss dee Tjinja, oba uck dee Ellre vel Nieet.
Sat junt eenen Prips ooda Mate opp, nehmt eenen Tweeback enne Haunt, doamet dee Atmospheare stemmt, en dan tjen jie dee Betja von Elina lese. Oba plont vel friee Tiet enn, jie woare dee nich soo schwind wada ute Haunt laje welle.
Dee Plautdietsch FRIND haft sich met Elina Penner unjahoole. Dee Froage stald Heinrich Siemens.
Plautdietsch Frind: Leewe Elina, du dreemst nu aul Joahre doavon Schriewasche to woare. Ditt Joah sent nu kort hinjrenaunda diene eschte twee Betja reed jeworde. Woo feehlt sich daut aun?
Elina Penner: Opp ver escht ver aulem onwertjlich en seeha, seeha drock. Etj sie eenije Doag verre Nachtbeare-Publikatioon enn München em Rehme vom Wortspiele Festival opp eene Behn jesteaje, hab eenen Pries jewonne en sie von donn aun unjaweajes. Soo rechtich bejriepe, veschwies oppoabeide kunn etj bit nu too nuscht doavon. Mien Lewe jeiht je uck wieda, met aule aundre Veauntwodinje.
Oba aum Enj feehlt sich daut seeha goot aun, natiealich.
Frind: Kaunst Du ons kort vetahle, om waut daut enne Nachtbeare jeiht?
Penner: Daut jeiht om Nelli Niefelt en eahre Breeda, en uck eahren jungen Sehn Joakob, een Famieljeromaun aulsoo. Daut jefft eenen doodjen Mensch, soo vel doaf eena verode, en vele Erinnerunge, aun dee Nootwohninj, aun dee eschte Joahre enn Dietschlaunt. Dee Romaun word uck aus Emanzipationschronik, uck aus Erinnerungsliteratur betetjent. Daut jeiht om toxische Maskuliniteet, daut Nich-Aunrede von Probleeme en transgenerationale Traumata. Oba uck om Hunga, om Ete, om Vearot-Aunhiepe.
En sest: Nelli en eah Brooda Eugen representiere dee metjebrochte Jeneratioon von Russlauntdietsche, dee aus Tjinja ooda Jugentliche noh Dietsch­launt metjenohme worde. Eena kunn saje, jeajen eahren Welle ooda ohne eahre Toostemminj.
Noch meeha Infos hiea: https://www.aufbau-verlage.de/aufbau/em-gespraech/elina-penner-ueber-eahren-debuetroman-nachtbeeren
Frind: Woone Roll spelt dee Humoa enne Nachtbeare?
Penner: Woahschienlich dee jratste. Dee Romaun ess grulich absurd, zynisch en ewadrewe. Daut sull jiede Lesasche ertjane tjene. En doch schriewe mie onbejrieplich vele Mensche, aule Dach, daut etj eah Lewe beschrewe hab. Eahren Auldach oba uck eahre Vegohnenheit. Daut sent rehrende, wertjlich intensive Breew, dee etj tjriej, auleen doarut kunn eena een Bok met Jeschichte toopstale.
Frind: Dee Romaun spelt enne Corona-Pandemie, dee woat oba tjeen eenzijet Mol erwehnt, tjeene Masken, tjeen Lockdown, nuscht. Woo tjemmt daut?
Penner: Gaunz prost: Dee Romaun word deelwies aune 2019, oba ver aulem em Jaunuoa bit Aprel 2020 jeschrewe. Aule Dote, Jeburtsdote, Stoaw­dote, aules, waut dee Charaktasch aunjeiht, stund aul faust. Vleicht jefft daut dem Gaunzen nochmol waut Besondret, daut enn Nelli eahre Welt Corona nich explizit veatjemmt, daut see aulsoo jetrant ess vonne Wertjlichtjeit, waut Nelli eah Jeistestoostaunt aunjeiht en uck dee Tendenz, enne Vegohnenheit to lewe.
Frind: Noh vele negative Schlagzeilen em Toophang mette Menniste finj wie nu opp eenmol enne ewaregionale Medien een opprechtijet Interesse aune Menniste, ohne Veauadeele. Sittst du die aus Mennische Missioonoasche?
Penner: Halemoss. Ne, soo wiet wudd etj nich gohne welle. Etj mucht je uck nich mien Lewe lang ewa Menniste schriewe ooda doa aktivistisch unjaweajes senne.
Fe mie ess Nachtbeare ver aulem een Romaun ewa Plautdietsche Mensche, bie den dee Famielje uck mennisch ess. Dee Lied oppe Lesunge sent seeha, seeha nieschierich en interessiere sich wertjlich fe daut Theema. Off enn Brüssel, dee Schweiz ooda Berlin! Eene hiesje Fru ut Ostwestfalen-Lippe froch mie, off mien Bok ahr halpe wudd, eahre mennische Nohbasch to vestohne. Etj sed ahr, see kunn uck mol utproowe, met den to rede.
Frind: Enne latzte Tiet sent doa ver aulem sekularisieade junge Frues, dee dee mennische Literatua dominiere. Sittst du die enne Traditioon von Miriam Toews en Rhoda Janzen?
Penner: Daut wudd eene Eeha senne, etj hab dee Betja von dee beid jelest en leew den eahre Jeschichte. Ver aulem bie Miriam Toews finj etj daut super, daut Plautdietsch emma eene Roll spelt, en ver aulem soone selfstvestentlije. Plautdietsch ooda mennisch senne ess je vel meeha aus dee Gloowe. Ver aulem ess daut Ete!
Frind: Miriam Toews funk vel Biestemminj von Mensche, dee nich selfst Menniste sent, oba vele Menniste were von eahrem Bok nich soo bejeistat. Hast Du uck Auflehninj von Menniste erfoahre?
Penner: Bit nu too noch nich. Etj hab doaropp jeluat, daut weet eena je verhea nich, woo soo waut auntjemmt. Oba waut etj erfoahre hab, were Emotioone en Dankboatjeit von Mensche enn mienem Ella. Daut gauf interessauntawies een poa ellre Mummtjes, uck hiesje Dietsche uck Russlauntdietsche, dee wertjlich doll were deelwies. Oba eahre 'Rezensioone', wan eena daut soo nane doaf, habe onjletjlichawies eeha bestetijt, daut see daut Bok nich wertjlich ve­stohne habe. Oba opp ernst, etj haud niemols nich em Droom doamet jereatjent, daut dee FAZ, dpa, dee Chef vom Zeit Magazin, daut Feuilleton auljemeen oba uck haulf Bookstagram (Bokwelt opp Instagram) soo bejeistat senne wudde. Daut Bok lat sich opp seeha vele veschiedne Oate lese, etj hab uck von vele Oostdietsche jehieat, daut it daut Lewensjefeehl vonne 90ja Jaohre goot beschrifft.
En jie tjene daut uck hiere! Etj hab daut selfst fe Audible opp jeschnackt.
Frind: En om waut jeiht daut em Bok Tjinjafroage?
Penner: Daut jeiht om dee Jeschwista Auna en Johaun, dee biem Koffedrintje aum Sinndach, biem Vaspa, eahre Famielje vele Froage stale en Auntwode doaropp tjrieje. Daut fangt doamet aun, woorom Schnettje soo heete en hieat doamet opp, daut eena ewa dee Aunfangstiet enn Dietschlaunt redt.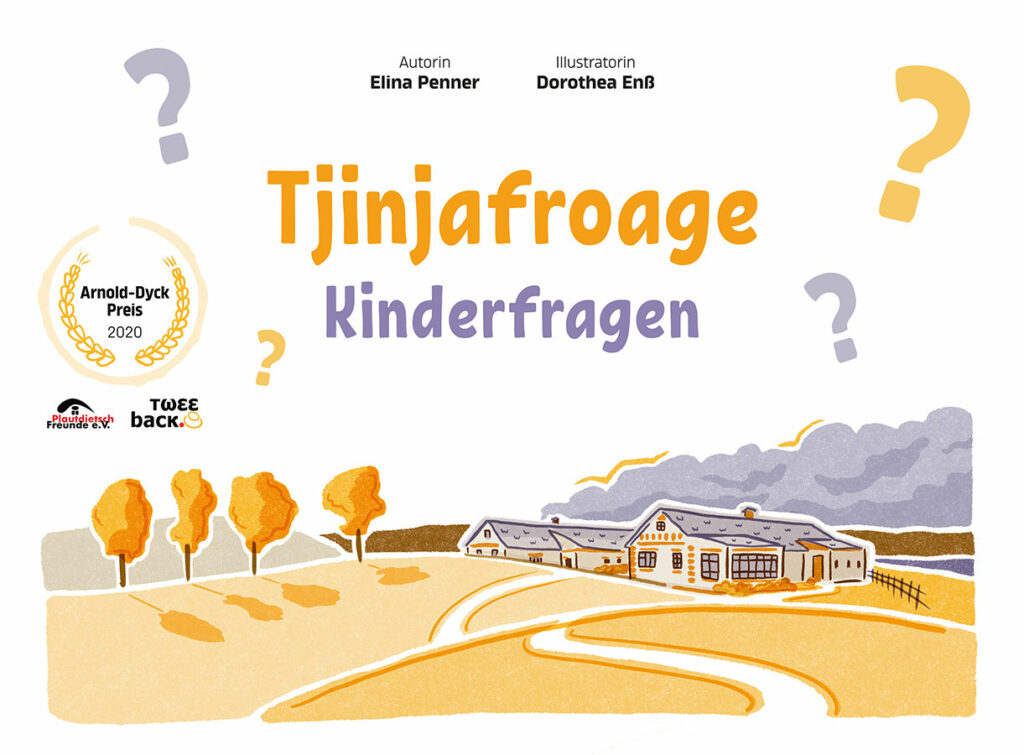 Frind: Woo kaum daut too dee Toop­oabeit mette Illustratorin Dorothea Enß?
Penner: Dorothea hab etj ewa eene Empfehlung opp Instagram jefunge, mie jefoll eahre Oabeit fots oppe Sted, uck daut see eenen plautdietschen Hinjagrunt haft, oba meist nuscht nich doarewa wisst. See ess aulsoo dee perfekte Zielgrupp!
Frind: Waut sent diene neajchste Projatjte?
Penner: Waut mienen Beroop aunjeiht, wudd etj jern boolt daut neajchs­te Bok schriewe, mol tjitje. Privaut sie etj eenfach frooh, wan etj mol tus sie.
Frind: Leewe Elina, vel mol dankscheen, daut du dee Tiet jefunge hast, onse Froage to beauntwode, en vel Erfolch biem neajchsten Romaun.